Summer Renovations – Progress and Pictures
Thanks to the generous donations we've received from alumni, we've been able to undertake significant improvements to the Alpha Tau house this summer.
HVAC Overhaul
The previous system was 20 years old, and failing on multiple accounts. Boer Brothers HVAC replaced all six systems with high efficiency heat pumps, and wifi connected thermostats. The House Corp now has the ability to monitor the temperature of the house, and to be alerted of significant HVAC issues automatically. All ducts were also cleaned. 20 years of frat gunk came out of those ducts, and folks, it wasn't pretty.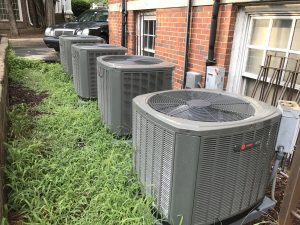 Gutter Replacement
The gutters, also 20 years, were in terrible shape. Who'd have thunk that hanging derby days banners from gutters so often would have torn them up? Brand new gutters are installed over also brand new PVC fascia board, which should hold up to the elements very well. Rotten soffits were also repaired and replaced. "After" and "before" below.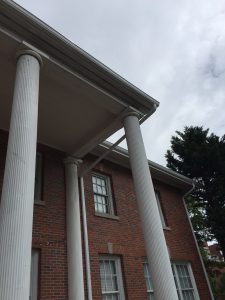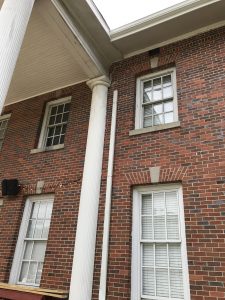 Upstairs Bathroom Renovation
There's a theme here that 20 year old items are flat out busted. The upstairs bathroom was no different. All old tiling is being removed, as well as rotten shower pans and sub-flooring. New modern, gray tile is going down on the floor, with white subway tile in the showers. New toilets and a corian counter top will finish things off here.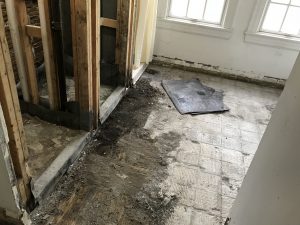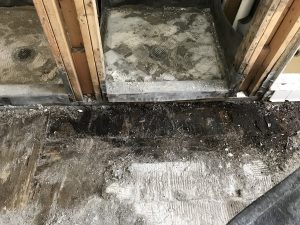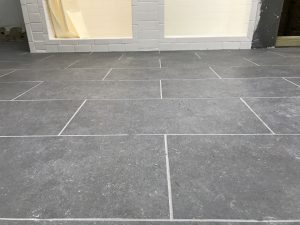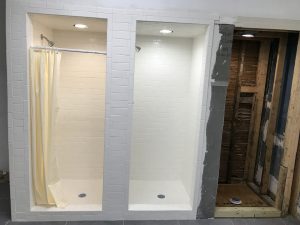 Basement Drainage Issues Resolved!
We've had two pumps installed in rear exterior stairwells to solve repeated basement flooding. Now that this work is done, we can work to improve the basement itself, which is in need of new lighting, painting, and dry wall repair.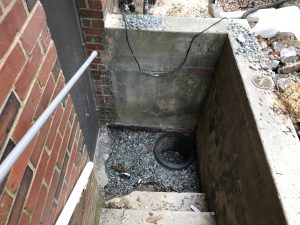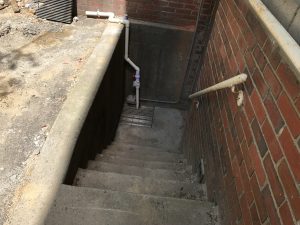 Fire Escape Stairwell Repair
The old footings holding up the fire escape sunk, causing it to lean off the side of the house. A big safety issue, we're having a contractor, engineer, and steel firm remove, repair, and repaint the stairwell, and new, larger footings installed.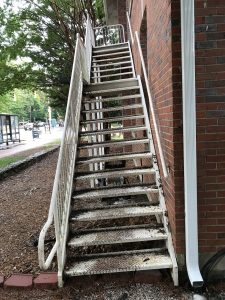 Refinishing the Chapter Room floor
The actives themselves made the noble effort to refinish the chapter room floor themselves previously. While they did a good job, we're bringing in the pros this time. The contractor will take the hardwood floor down to it's natural state, then apply 3 coats of heavy duty high traffic sealer. Here's the "before" picture. "After" picture coming in the next email update.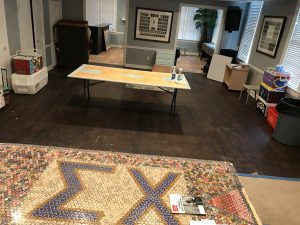 But Wait, There's More!
We've got more items to tackle this summer, and throughout the 2017-2018 academic year.
Yes, we need additional donations to:
* Replace all the windows
* Replace all bedroom doors with metal fire doors
* Refurbish 20 year old bedrooms
* Repaint the exterior
* Repair and repaint the basement
Please support the Alpha Tau house…it's time to give back.
If you want to write a check right now, please do so and send to:
Alpha Tau Sigma Chi House Corporation
PO Box 4422
Chapel Hill, NC 27515
For online donations of less than $1,000, DONATE HERE NOW!